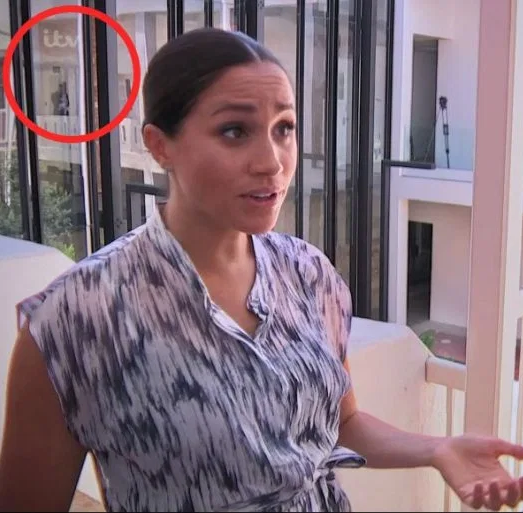 The documentary Harry and Meghan: An African Journey, aired last night but fans were particularly moved by one scene which shows Harry cradling and rocking baby Archie in the background while Meghan granted an interview.
The documentary gives an insight into Harry and Meghan's royal tour of Africa.
In the footage, Meghan, 38, is seen chatting with Tom Bradby as she discusses how successful the first two days of their trip have been so far. She hailed the "optimism" in the country, as she and Harry took five-month-old Archie to meet Archbishop Desmond Tutu.
As Meghan spoke, fans were distracted by a beautiful sight. They saw a reflection of Prince Harry, 34, and their 5-month-old son in the background of Meghan's interview.
Harry is seen cradling his son and rocking him from side to side in candid footage, where he thinks no one can see him.
Viewers took to Twitter to tweet about the sweet father-son moment. They referred to it as the "favourite" part of the hour-long documentary.
On Twitter user wrote: "My favourite part of Harry & Meghan: An African Journey. Reflection of Harry cuddling Archie."
Another tweeted: "Meghan is saying something important but I can't keep my eyes off the duo in the left side corner….. Harry and Archie."
Meghan is saying something important but I can't keep my eyes off the duo in the left side corner…..Harry and Archie 😍#HarryandMeghan pic.twitter.com/eEh9d1Aoib

— Aly Brendan (@AlyBrendan) October 20, 2019
Another Twitter user said: "Harry carried Archie as well. Cradled him so tenderly and so close."
Meghan is saying something important but I can't keep my eyes off the duo in the left side corner…..Harry and Archie 😍#HarryandMeghan pic.twitter.com/eEh9d1Aoib

— Aly Brendan (@AlyBrendan) October 20, 2019