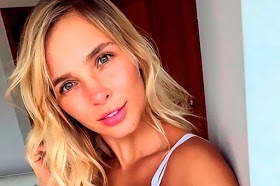 A gorgeous model and ex-Miss Colombia has been having s.e.x every day with her boyfriend in the hopes of falling pregnant with a green-eyed baby.


Elizabeth Loaiza, 31, revealed the raunchy details of her s.e.x life with her boyfriend and admitted to getting ruffled under the sheets on a daily basis.


The model, who won the Miss World Colombia beauty pageant in 2006, was answering questions from her 1.8 million Instagram followers when someone asked: "How often do you practice [s.e.x] for a baby?"


But before the blonde beauty could even respond, her boyfriend chipped in with "every day", to which Elizabeth replied with: "See, someone has already answered for me!"


When asked about her relationship, the Instagram bombshell added: "If it wasn't happy with my boyfriend I would have sent him you know where. We are hoping for a green-eyed (baby)."


The identity of Elizabeth's other half remains a secret, although she does already have a daughter called Ana Sofia who was born in 2009.


She previously stated that she would like another child when she was 30, but she turned 31 on January 7.