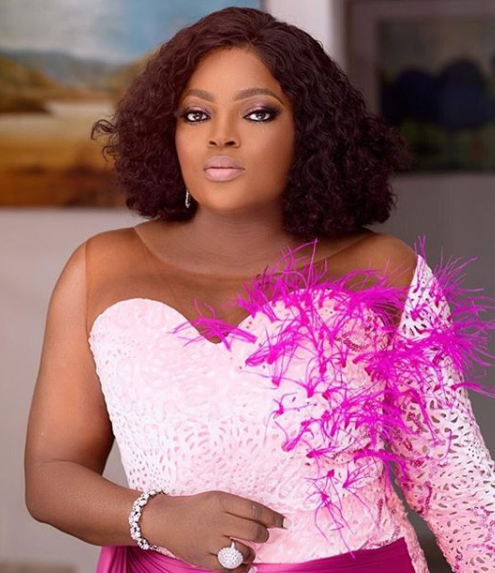 Wonder why AuntyFunke is trending on twitter? It is because of the actress's generous controbution to the #EndSARS, #EndSWATS protests currently going on across the Nation.


The actress has been buying data for online protesters to continue the campaign.


Asides that, she also sent money to some of her fans who are in need while promoting #EndSARS.


According to the actress, this is not the time to stay silent and the youths must overcome.


Her generous donations have led fans to trend #AuntyFunke on Twitter.


See some of her tweets below:https://platform.twitter.com/embed/index.html?dnt=false&embedId=twitter-widget-0&frame=false&hideCard=false&hideThread=false&id=1316644165019721729&lang=en&origin=https%3A%2F%2Fwww.ladunliadinews.com%2F2020%2F10%2Fendsars-funke-akindele-donates-money.html&theme=light&widgetsVersion=ed20a2b%3A1601588405575&width=550pxhttps://platform.twitter.com/embed/index.html?dnt=false&embedId=twitter-widget-1&frame=false&hideCard=false&hideThread=false&id=1316648830297927680&lang=en&origin=https%3A%2F%2Fwww.ladunliadinews.com%2F2020%2F10%2Fendsars-funke-akindele-donates-money.html&theme=light&widgetsVersion=ed20a2b%3A1601588405575&width=550pxhttps://platform.twitter.com/embed/index.html?dnt=false&embedId=twitter-widget-2&frame=false&hideCard=false&hideThread=false&id=1316659653913313280&lang=en&origin=https%3A%2F%2Fwww.ladunliadinews.com%2F2020%2F10%2Fendsars-funke-akindele-donates-money.html&theme=light&widgetsVersion=ed20a2b%3A1601588405575&width=550pxhttps://platform.twitter.com/embed/index.html?dnt=false&embedId=twitter-widget-3&frame=false&hideCard=false&hideThread=false&id=1316656583225548800&lang=en&origin=https%3A%2F%2Fwww.ladunliadinews.com%2F2020%2F10%2Fendsars-funke-akindele-donates-money.html&theme=light&widgetsVersion=ed20a2b%3A1601588405575&width=550px