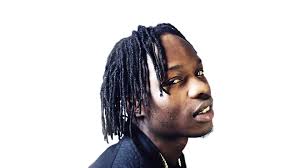 I no need remind you who Naira Marley be…You sabi am abi? That's exactly the point.We can't all be famous…no be so? One person talk say famous / great people are like gods or maybe semi gods..for real ehn, it depends on how you wan put am..The question is ..If you get disciples, followers,worshipers(die hard fans),lovers ,haters ,and the power to make things happen ,wetin you be?Maybe I am wrong sha..wetin you think?
Somedays ago, I woke up to a post and email wey talk say make promoters stop to dey promote Naira Marley..these includes club DJs,Radio DJs,Show promoters, Hypemen etc.say the guy dey sing rubbish wey dey spoil children/teenagers life.I laugh in Spanish…hahahhha balamakanchu cha!
Is this shit really happening?
Coming from guys who grew up listening to the famous Naughty by Nature ,Tupac,Biggie,True live crew (R18) and d rest.Coming from guys wey dey dance 'soapy' for front of mirror for house,coming from the guys wey dey do the 'real soapy ' if light don off..
What do we really want?
OK I get it..Ruggedman fuck up,small boy treat the fuck up..now y'all wanna play that hypocrisy game?
I got lots of respect for OGz..but 4 real , real OGz no dey fuck up..they maintain that balance..if you know you know..
Big artistes plenty wey dey smoke igbo..from the days of Majek Fashek till tomorrow ..they dem self they smoke Igbo and they carry olosho steady..even Some of their mentors/heroes own brothels..Why the sudden hate?
Hypocrisy na major disease for the industry.
Don't get me wrong o..I am not trying to compare Naira Marley to the likes of Fela Kuti and the rest..Dem na baba any day.There is a saying in the entertainment world that 'Controversy sells' Abeg o..if the guy should stop ,wetin he wan use chop? Small time this hypocrites go talk say dem get 'Selling point'.
Wetin be Naira Marley selling point?before Naira Marley,yahoo ,smoke,women,wine don dey exist. We never even see anything.. Lol
Guys make una go chill..Una never see anything.
Wetin the Naira Marley Illuminati track mean to you?
My point is people like Naira Marley must exist in the industry if the Industry wan make sense.He is a game changer and you know it.Na big challenge to all artistes,music makers and producers to step up their games.Make promoters no bring personal beef ,selfish interest or one kind monopolistic approach come run d game.Let this boy breathe.
The post sef no be about Naira.My friend talk say who wan drink beer wey no cold?Even for this cold,people go still drink cold beer..Na so!
Let the people be the judge ..let the listeners determine what they want..broda advocate for good music!
Nobody get total control over music.. Not even the government..Who God bless with talent,let no man curse.
Let the music play and let the listeners determine what they wanna listen to.Music lives in each and everyone of us.
– Tunde Travels