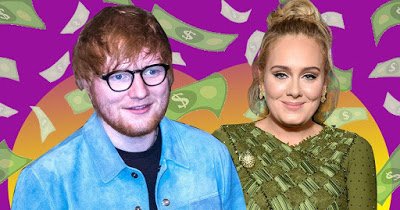 Ed Sheeran is, to put it bluntly, raking it in and is now worth a huge £160 million, doubling his wealth in just a year. That's an extra £80 million in just 12 months.
The 28-year-old's total worth was revealed in a new edition of the Sunday Times Rich List, which has seen him surpass Adele who is worth a cool £150 million.
She still reigns as the wealthiest female recording artist and sits at number 22 on the rich list, while Ed is now a few spots ahead at 17.
They are two of the youngest stars included on the list, which is mainly dominated by veteran musicians including the likes of Sir Elton John and Sir Paul McCartney.

Topping the list is Andrew Lloyd-Webber and his whopping £820 million, while McCartney (£750m), U2 (£583m), Elton (£320m) and Sir Mick Jagger (£275m) make up the top five respectively.
Ed, meanwhile, bags the number one spot when it comes to the list of wealthiest young musicians, while Harry Styles is the second wealthiest and Niall Horan comes in third. In fact, the top 10 is pretty much dominated by the One Direction boys, as Louis Tomlinson is fifth, Liam Payne sixth and Zayn Malik seventh.