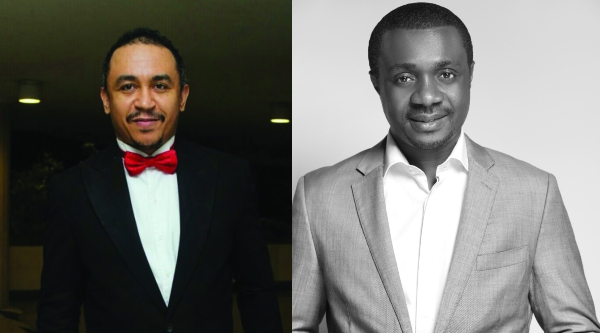 Controversial Cool FM OAP and 'Free the Sheeple' leader, Daddy Freeze, has taken a swipe at gospel singer, Nathaniel Bassey who reacted to the absence of Pastor Chris Oyakhilome's divorced wife, Anita's absence at her daughter's wedding.
Nathaniel Bassey who reacted to a question from a follower who asked why Anita was not present, said people should focus more on God restoring the failed marriage. Nathaniel's response to the comment reads;
"While I noticed that myself too, I took some time in my hotel room here praying that God restored that marriage. Let me ask? Have you too? And is this comment genuinely out of love and concern? Or is this just a comment to stir up strife? Long time ago, I made up my mind to be a KINGDOM man, and not just denominational. There is too much stuff and division in the body. So, take sometime believing in the restoration of that home in Jesus name," Nathaniel Bassey wrote
However reacting to this in live video, Daddy Freeze slammed the gospel singer who according to him was doing what Jesus never did. The OAP who disclosed that her former marriage ended because she was not compatible with her ex-wife, said God will punish anybody who prays for the restoration of his marriage.
"God will punish such a person and that nothing in that person's life will work" he said.
Daddy Freeze who further cited Jesus' meeting with the woman who was divorced five times to back his claims, added that Jesus never prayed for the woman's previous marriages to be healed. According to him, if the woman's marriages needed restoration, Jesus would have mentioned it and the bible would have recorded it.
He wrapped up his live message by saying that people involved in failed marriages, should instead pray for their restoration, instead of outsiders who do not have an idea of what transpired in the marriage to offer prayers.