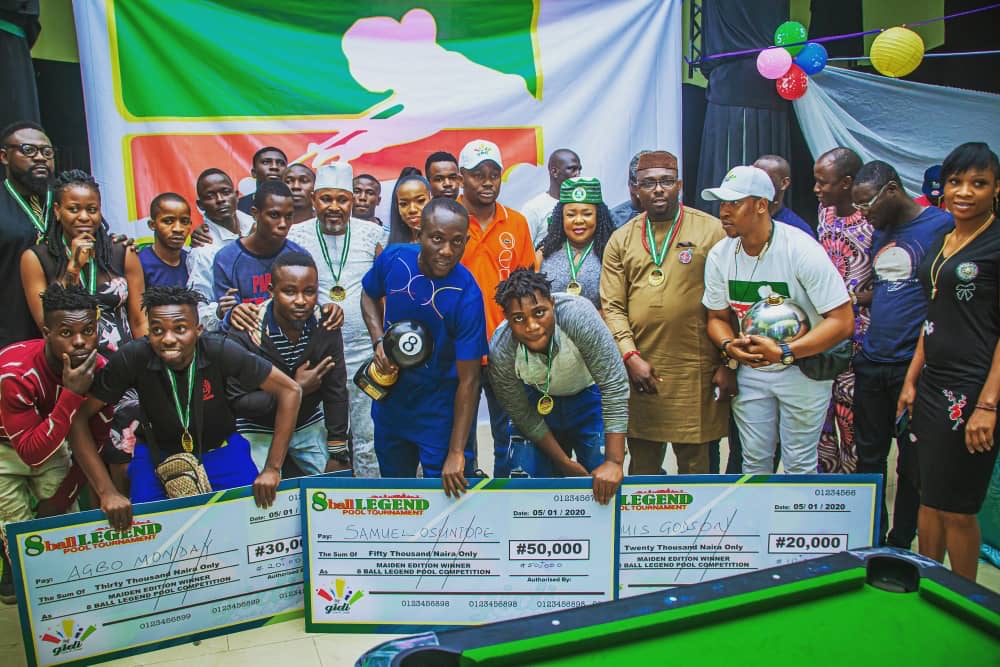 It was indeed an afternoon of thrills, excitement and a showcase of the best of Billiards sports talent under Ikeja Constituency ll, Lagos, Nigeria.
The Maiden Edition of the 8-ball Legend Pool Tournament took place at the Presken Hotel, 17 Alade Avenue Street, Off Awolowo Way, Ikeja, Lagos, Nigeria on the 5th January, 2020. It was nothing short of fun and joy as we were thrilled to the best of sporting excellence, while some went home hundred thousands richer, and others took away gift items.
Kingsley Ogboso the Project Director said the highly contested competition discovered New champions in the game which saw the first ever 8-ball Legend Champion in Nigeria emerge. The highlights of the tournament and to the surprise of all was when the winning cash prizes was doubled by the Grand Patron of the project and the Chairman on Lands, Lagos State House of Assembly, Hon. Adedamola Richard Kasunmu (ARK).
ARK of GOD as he is fondly called couldn't hold back his joy at what could best be described as a day to fuel the passion of a thirsty generation. ARK gave the winner Samuel Osuntope a N100,000 instead of N50,000 for 1st place, Monday Agbo got N50,000 instead of N30,000 for 2nd Place, and 3rd place winner Godson Louis smiled home with N30,000 instead of N20,000 respectively. We thought the distinguished leader of the people was done only to have handed a brand new 8-Feet Pool Table and a N20,000 cash prize to the only female player Blessing Mena who dared to come compete in a male dominated contest.
Some of the VIP guests who graced the initiative include Nollywood sweethearts Ambassador Saidi Balogun, Yemi Blaq, Sam Uche Anyamele, and the President Football Fans Club of Nigeria Yemi Ogunbunwa, Esther Ogu founder Nuella Autism Foundation and currently 2nd Princess for Miss Ideal Nigeria, Wale rubber a season dance instructor and choreographer who doubled as the referee made the entire arena so colorful. They all had had a common goal asides enjoying the game, but the mission of saving more lives, taking children off the streets and putting an end to youths victimization and gun violence through the laudable project.
Inset are post event images and a video, as plans are already on the way for a 2nd Edition in April, 2020 and the organizers have promised to partner with top brands to make the contest the most sort after sport after football in Nigeria.
Samuel Osuntope, Winner Maiden Edition 8-Ball Legend Pool Tournament.
Check out pictures from the event below!