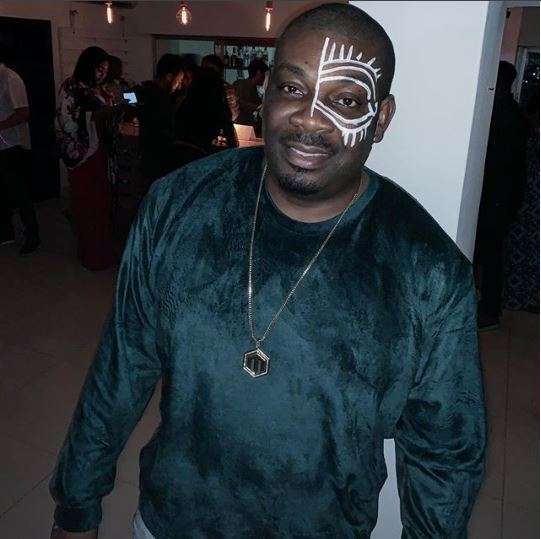 Celebrities tend to hang out together all the time but when one of them gets star stuck like in the case between Don Jazzy and Naomi Campbell, we kind of find it cute!
So, guys, Don Jazzy happened to have posed with the fashion icon and he was star struck. He took to his Instagram page on Wednesday, November 7, 2018, where he shared the cute photo.
"I had to put on my sexiest eyes    lol. Let me not lie I was star struck o. Night out in Lagos with Queen    @naomi," he captioned the photo. What do you think guys? Do they look good together or not?
For a lot of people, Don Jazzy is not just an icon but a role model, while for others, especially the ladies, he is one cute and adorable guy. So you know, some female celebrities aren't left out in the list of ladies who have a thing for Don Jazzy.
Let's not forget the time Toke Makinwa tried to shoot her shot towards the legendary music producer (Even though it might have been just for the jokes), but we all loved it.
See how Toke Makinwa shoots her shot at Don Jazzy
A few weeks ago, we were thrilled when social media went into a frenzy after Toke Makinwa tried to shoot her shots at Don Jazzy. It all started with a tweet from Don Jazzy which kind of tipped off Toke Makinwa to reply him. Don Jazzy had taken to his Twitter page on Wednesday, October 3, 2018, where he tweeted about looking for the "complete one" and made references to Toke Makinwa.
"Una Dey look for bae wey be #thecompleteone, even Toke. (Don't tag her o)          Me I"m just here, as a hungry bachelor, wondering how long it will take Indomie to make noodles that comes with real fish or chicken inside.        That one go definitely be complete bae," he tweeted
Well, we guess Toke Makinwa got a hint of the tweet as she went on to reply him swiftly. "Hey Donjazzy        I saw your tweet o, wait are you #Thecompleteone????" she tweeted.
And Don Jazzy joined in it as he too replied her back. "Ahh, I for complete but the way my nose is set up ehn. And I'm not sure I have the right size down there too. Maybe if I looked like those Kupe boys," he tweeted back. Then guys, Toke like the bold woman she is, went for the killer!
"Your nose is cute plus I think we can start with dinner the rest we find out after," she wrote.
Well, we were and still are rooting for these guys. Who else wants this to actually become a reality? Raise your hands!