Bobrisky has made a u-turn and apologised to Tonto Dikeh for getting in the public fight between Tonto and her ex, Prince Kpokpogri.


The controversial Cross dresser, who called Tonto out numerously shared a photo of her why admitting he humilated her and deserves his apology.


Bob had dragged the actress exposing the lies they kept months ago that Tonto was never detained in Dubai.


Though Bob and the actress had denied it when the news leaked, but apologised saying she was actually detained and they lied to Nigerians. He also said the mom of one was owing him N5m and implied she is broke.


In a shocking u-turn, Bob shared a photo of the actress and wrote;


"Tonto I humiliated you here so is a must I apologise for calling you out. I honestly don't know what came over me but I realize I'm wrong. Please find it in your heart to forgive me.


You were there for me at some point in life, please find it in your heart to forgive me once more.


We necessarily shouldn't be friends no more but let me apologize for calling you out.


"To my fans and Tonto's fans, I'm sorry many of you are disappointed at me, please forgive me. I promise not to repeat this again."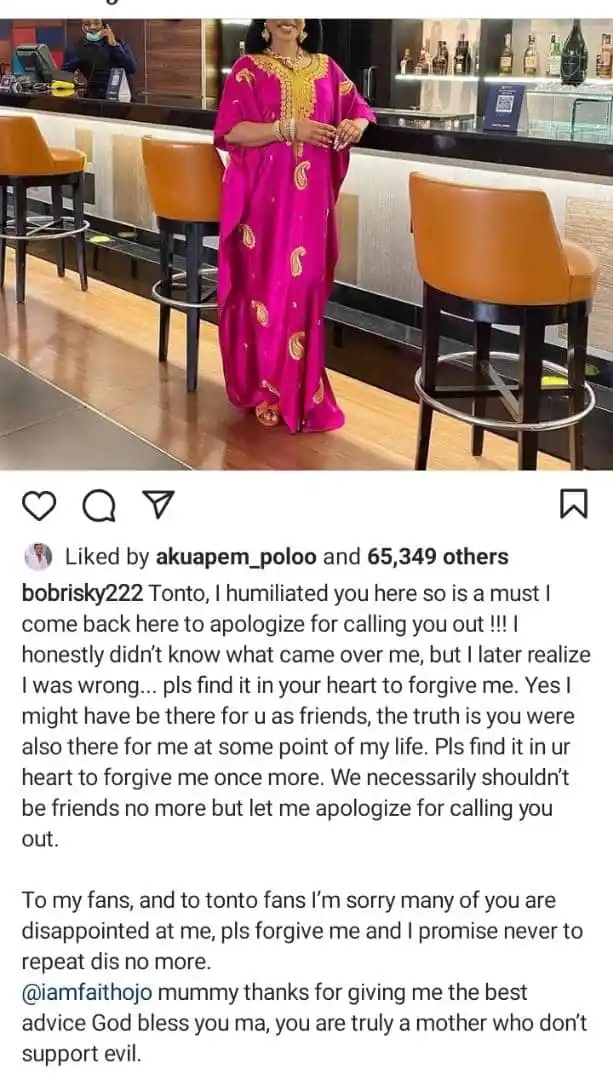 Omo some of us are just lost. WTF is this? Lmao, one minute u are fighting hard the next minute is, i am sorry??? Did someone get threatened? Is all okay?? Ha o ma ga oo.