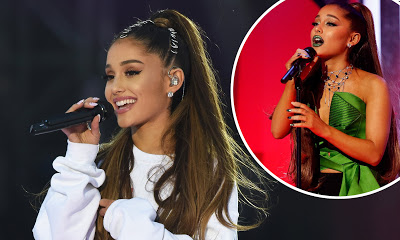 Ariana Grande returned to Manchester for the first time in two years as she performed at the Manchester Pride event at Mayfield Depot on Sunday.
The singer, 26, admitted she was 'nervous' and 'overwhelmed' as she took to the stage in the Northern city after she held a benefit concert in aide of those who were injured in the bombing at her Manchester concert.
As she was cheered onto the stage by hundreds of fans, the award-winning musician looked emotional as she announced: 'I love Manchester so much, thank you so much for having me back.'

The One Last Time hitmaker continued: 'I'm so happy to be here with you – it means the world – so thank you for having me.
'I'm sorry, I'm so nervous, I had so much more to say but I'm like very overwhelmed so thank you. It's so beautiful, I love you so much.'