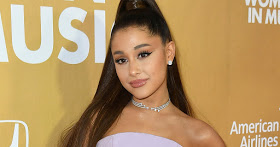 Ariana Grande has donated proceeds from her sold out Atlanta concert to Planned Parenthood one month after the state of Georgia passed the 'fetal heartbeat' abortion law.
The nonprofit organization that provides reproductive health care in the United States and globally will receive $300,000 according to a report from TMZ on Tuesday.
As several production companies have decided to stop filming in the state, many other entertainment entities have called for a boycott due to the new state restrictions.
Under the new law, abortion will only be allowed, 'to avoid a serious health risk to the unborn child's mother,' or if the 'unborn child has a lethal anomaly,' according to CNN.
The state also shut down an amendment for an exemption for cases of rape and incest, as the new law aims to challenge the 1973 Roe V. Wade ruling that legalized abortions in all 50 states.
The tour stop was a controversial one as the recent newscame just a day after she apologized o fans after a homophobic protest took place outside her concert in Atlanta on Saturday.
The Thank U, Next songstress, who is an advocate of LGBTQ rights, tweeted her love and support to fans after concertgoers were greeted by two male protesters outside the State Farm Arena holding up a rainbow banner with the word Pride crossed out.