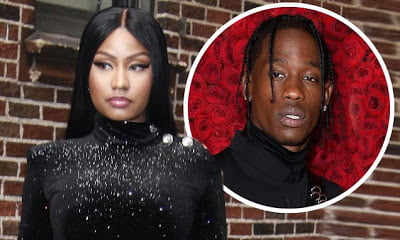 Nicki Minaj has defended the performance of her album Queen after it finished second on the Billboard 200 behind Travis Scott's Astroworld, saying that the marketing of Scott's album involving his girlfriend Kylie Jenner, artificially inflated the numbers.
The Grammy-nominated artist, 35, took to Twitter on Sunday to point out that Scott sold more than 50,000 copies of Astroworld 'with no requirement of redeeming the album' and 'no dates for a tour,' while relying on Kylie's enormous social network for promotion.
Minaj said, 'I put my blood sweat & tears in writing a dope album only for Travis Scott to have Kylie Jenner post a tour pass telling peoplel to come see her & Stormi. lol. Am actually laughing.'

The Queens, New York native, whose full name is Onika Tanya Maraj, said she talked to Scott, and 'he knows he doesn't have the #1 album this week,' in spite of his Billboard status.
She then declared: 'I love my fans for the #1 album in AMERICA! … 4 albums in, #1 in 86 countries.'
The Barbie Tingz artist pointed out changes in the business model of the music industry: 'My first album sold 400K. No one is doing that with debut albums now … I looked at the numbers the Carters, Kanye, Nas, etc recently did.'
She noted how Scott has been able to successfully crossover his album sales with his fashion business, adding that it skews the numbers in a way that Billboard will address moving forward.
'Travis sold 200K in his first week of clothes alone,' she wrote. 'I spoke to him last night & he said he's been selling clothes b4 the music. Billboard says they'll change the rules cuz of this, so it should be changed now!'
Nicki also called out the streaming service Spotify for what she called a punitive reaction after she played cuts from Queen Radio on Beats 1 on Apple Music: 'Spotify put drake's face on every playlist but told me they'd have to teach me a lesson for playing my music 10 mins early on #QueenRadio.
'Even tho they've been giving away my music for free for years & I am one of the top Spotify artists of all time.'
She noted that 'Spotify had to teach [her] a lesson but rewarded the man who has had an Apple radio show the longest; inadvertently helping the Apple platform the most.'
She noted that despite her gripes, she was not bitter or upset as she tweeted.
'People are calling me thinking I'm huffing & puffing,' she wrote. 'Omg y'all this is sarcasm/dry humor. Yikes. I'm having the most iconNIC time. When people call me & hear me crackin up laughing they seem so puzzled. Loosen up.'