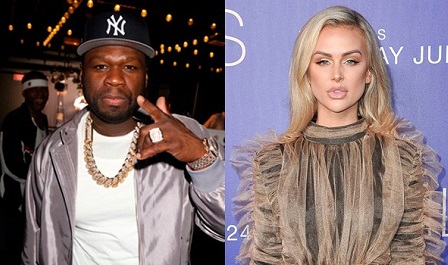 The debt may have been paid but it looks like 50 Cent's feud with Lala Kent and her fiancé, Randall Emmett, has been reignited.
The rapper went off on the "Vanderpump Rules" star on Instagram Friday after she claimed on "WWHL" she has proof she "dinged" Fifty's ego following their public social media beef, which became known as the Fofty Feud.
Sharing multiple posts to his profile, the "Power" star slammed Lala and her relationship with Emmett — hitting everything from the reality star's sobriety to how the couple got together. Fifty even insulted both Lala and her man's appearance.

Fifty opened his offensive by posting a photo of a news story presenting Lala's claim from "WWHL."
"What's wrong with this hoe," he captioned the screenshot. "now don't say she didn't ask for it when I start tripping."
The "In Da Club" rapper even took a shot at Kent's battle with alcoholism. (back in May, Lala confessed to Andy Cohen at last season's "Vanderpump Rules" reunion that she was drunk for "four days straight" while on a trip to Disney World with Emmett and his two daughters.)
"oh this bitch be drunk 4 days straight," he captioned a pic of an old report. "She must just be on some drunk hoe, I don't remember type shit."
Fifty continued to criticize Lala's sobriety by writing a fake conversation between him and Emmett.
Captioning a photo, below, of Lala and Emmett in bed, Fifty wrote, "Randell: I'm sorry Fofty this bitch is drunk and high. I told her put that damn phone down she don't listen. 50:Shut the fuck up Randell."
The rapper-turned-entrepreneur then went for Randall directly, highlighting a rather unflattering photo of the movie producer with a red circle.
"The f–k is wrong with your neck buck O," he captioned the pic.
For his next post, Fifty brought back up some old drama from the feud and poked fun at how Emmett and Lala first got together.
Sharing a Bravo interview where Lala recited her first meeting with Emmett, Fifty wrote, "No caption needed,LOL"
Fifty then took a jab at Lala's appearance from the interview. In the clip, Kent was sporting a very curly-haired look, which the "Candy Shop" singer juxtaposed with a funky wig of his own.
"This bitch rocking the Pimpin curly drip LOL," he captioned the pic, which also included a "WTF" at the top.
Fifty ended his posts with the OG clip that ignited the feud in the first place. In a scene from "Vanderpump Rules," Lala recalled to co-star Stassi Schroeder about how she met Randall and immediately landed an acting role in one of his films, adding that he got her Range Rover the day after she let him "hit it."
"Then he falls in LOVE with the hoe, and they live drunk and high happily ever after," Fifty wrote alongside the video.
Not unlike when the beef first began, Randall's ex-wife, actress Ambyr Childers, chimed in on Fifty's disses of her ex and Lala.
"Oh boy…here we go again!" Childers wrote. "I need a glass of wine for this one."