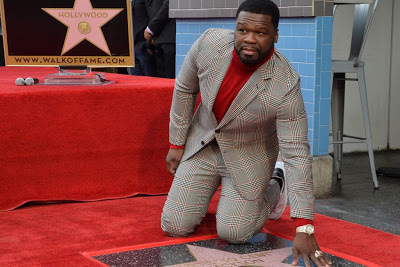 50 Cent has received a star on the Hollywood Walk of Fame and it was quite a ceremony, with appearances from Eminem and Dr Dre and, unexpectedly, a diss at noughties rock band Evanescence.
The In Da Club rapper, real name Curtis Jackson, attended the ceremony on Hollywood Boulevard on Thursday (30 January), where large crowds gathered to watch the milestone moment in Fiddy's career. Looking especially dapper in a two-piece grey suit and red polo neck jumper, 50 Cent was joined by close friend and Power actress Lala Anthony as he accepted the honour.
But he was particularly touched that his old pal Eminem, 47, made the effort to support him and deliver a speech that was, frankly, beautiful.

'Of all the things I don't remember about 2002, I have a very clear memory of the first time I met 50,' Eminem told the audience who cheered along.
'One of the first things I noticed about 50 was his presence because it just kind of felt like, he's gonna be a star… It just seemed like he was the whole package.'
Eminem clearly had a crystal ball at the time as Fiddy went on to become one of the biggest rap stars and music moguls.