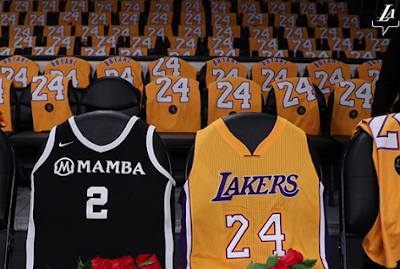 Vanessa Bryant posted a photo of two empty courtside seats on Instagram in honor of her husband Kobe Bryant and their daughter Gianna during the Los Angeles Lakers' first game since their deaths on Sunday.
On Friday night, the Lakers played their first game since Bryant and his daughter died on Sunday.
Bryant's wife and three daughters did not attend the game against the Portland Trail Blazers, but her family were paid tribute at the Staples Center, the home arena of the Lakers.
The photo shows Bryant's no. 24 Lakers jersey next to his daughter's AAU no. 2 jersey with flowers on the seats in a simple and emotional tribute.

"There is no #24 without #2," she wrote. "GirlDaddy #DaddysGirl #MyBabies #OurAngels #KobeandGigi."
Prior to the game, current Lakers superstar LeBron James delivered an emotional speech in honor of Bryant and his legacy.