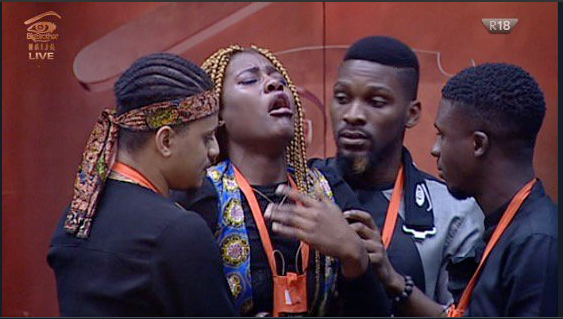 Day 42 at the BB Naija 2018 House had a lot of rejoicing and somber mood for the housing who were not sure of their fate at the end of the day. Still, they carried on to with peace in their hearts for whatever the day throws at them.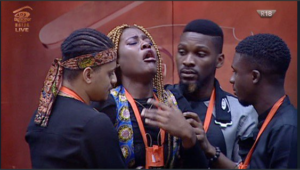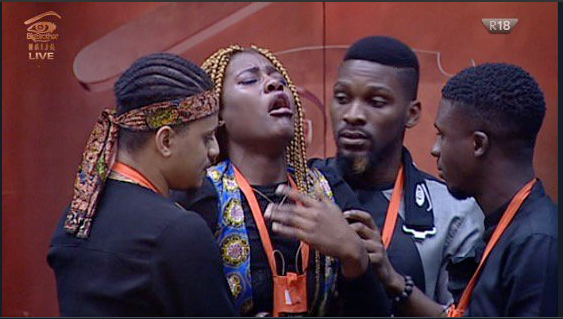 Here are the interesting things that happened on Day 41 at the BB Naija 2018 house.
The End Of The Road For Lifu
At the Sunday Night Live Eviction Show, the pair that lost their race for the prize was Lifu ( Leo and Ifu Ennada). The pair though odd was able to come on top twice, making their pair a not so bad one.
The Lifu pair came unexpectedly but both constituents gave an absolute maximum to make it work. Their collaborative efforts made it possible for them to bag the Pepsi mega price despite all the world war three worthy controversy. They were also part of Team Blue, the bunch that managed to knit their brains together and comes up with a concept that was convincing enough to win them the Heritage Bank Task. Their graceful display of maturity and strategic intelligence has seen them this far into the competition. A well-deserved kudos to them.
Uncontrollable Weeping
When Lifu (Ifu Ennada and Leo)  was evicted last night, we saw Alex crying as if the world was coming to an end. As she explains herself 'Leo was the only person who understood me in this House.' It's not the first time she wept for an Evicted Housemate. With Van-Dee (Vandora and Dee-One) it was the same story.
Poems For Our Moms
In a flowering homage to the power of motherhood, Dano Milk prompted the Housemates to write songs, poems or raps about their mothers.
This challenge was definitely a heartfelt one, each of the Housemates really evoked emotion with their beautiful words about their mothers but there were those who really stole the Show. Tobi rocked it with his "bars" as Biggie so perfectly put it, Anto's poem was in close competition and you could really see the emotion in Rico's face while he was singing his song. However, it was the underdog who rose to victory with Alex actually coming out on top with her spoken word rendition, as it happens, she is quite the wordsmith.
As each Housemate proceeded to deliver their original content, they were subsequently scored by the other Housemates afterward. Everyone was having fun and being fair (to a point) but Teddy A was having none of it. He felt nothing to give others two out of five and critically comment on their performances. He even gave Alex a little dig after her winning execution. Very Simon Cowell on Idols Teddy A. Tough crowd.
The scoring proved to be hazardous as everyone could see what they were getting, this then made them score those who gave them low scores unfairly. Towards the end of the Task, there was even bickering about who gave who what, especially among the guys.
It's All A Game
During the Live show, Ebuka asked the Housemates, particularly the romantically involved about how they felt and what their priorities were. Teddy A's response was a slight beating around the bush but he made it quite clear in not so many words that his and Bambam's was an 'in-house thing' and therefore couldn't predict what would happen outside. Bambam's silent reaction gave her away a little bit. It seemed as though she was disappointed by his bluntness and wanted more out of their 'situationship'. Nina, on the other hand, labeled Miracle as 'one' of her priorities and made it clear that she still had her eye on the prize, 'still'; and the big one, Alex. She was literally hysterical about Leo's exit; more than the Evictee himself. Besides the fact that he had been open and honest about their 'friendship', Alex still felt that he understood her the most and therefore deserved to take center stage, while completely throwing off her game.
Ebuka still reminded the Housemates that it was still a game and they should not lose their focus on the prize because of their emotions.
Over With Cebi
After the party on Saturday night, Tobi and Cee C got into a heated argument that ended badly for the two. Tobi had scorned Cee C's claim that she was a virgin because they had been intimates to the extent that Cee C halt touched Tobi's penis, which Cee C totally rebuffed.
It is no news then that they would totally keep to themselves as the two stayed far from each other at the beginning of the day but were able to make up before the end, especially with a likelihood of one of them going home.
When do you think these two will stop their unending cycle?