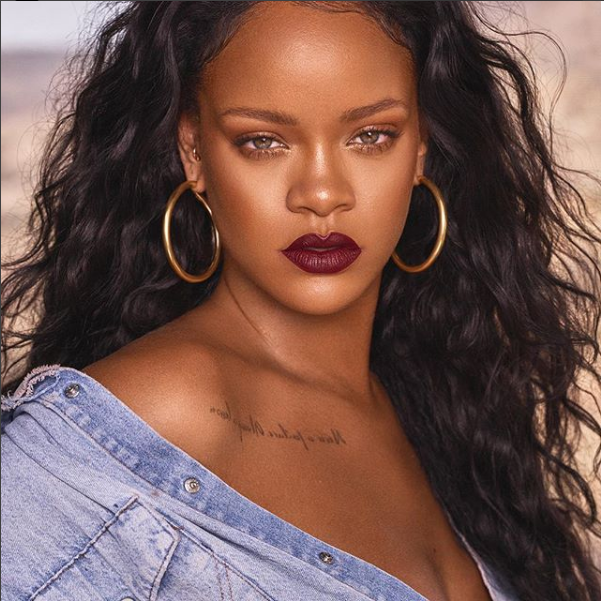 The name Rihanna is a household name that needs no introductions. With Rihanna's name also comes a star power that opens doors and business deals that the average man can only dream of.
In a surprising lawsuit, Rihanna has slammed her father, Ronald Fenty and his business partner, Moses Joktan Perkins with a lawsuit for allegedly misrepresenting their ties to her "to solicit millions of dollars from unsuspecting third parties"
It is gathered that the Barbadian beauty who is no doubt one of the most successful entertainers and beauty moguls out there is suing her father for allegedly using her name without her permission.
Reports from celebrity gossip sites, "TMZ",  "The Blast" and Pitchfork confirm that the lawsuit was filed today, January 15 in a California federal court.
In the court documents, Rihanna alleges that her father his business partner "have egregiously and fraudulently misrepresented to third parties and the public that their company, Fenty Entertainment, LLC, is affiliated with Rihanna, and has the authority to act on her behalf."
It is also learnt that Rihanna's attorneys allege that Fenty and Perkins "have used these lies in a fraudulent effort to solicit millions of dollars from unsuspecting third parties in exchange for the false promise that they were authorized to act on Rihanna's behalf, and/or that Rihanna would perform at various locations throughout the world."
The suit also gave instances where Fenty and Perkins allegedly "accepted" concert deals: One of the "exclusive deals," according to the suit, was for Rihanna to play 15 shows in Latin America for $15 million."
The lawyers further write that Fenty and Perkins have also ignored several cease and desist requests from Rihanna prompting the suit from
her (along with her LLCs Roraj Trade and Combermere Entertainment Properties) that is suing Fenty Entertainment, LLC, Ronald Fenty, and Moses Joktan Perkins for False Designation of Origin, False Advertising, Invasion of Privacy—False Light Publicity, and more.
As of the time of filing this report, Rihanna is yet to give a public statement concerning the suit.
Rihanna's relationship with her father has always been a rocky one as they have had fallouts in times past. In 2011, the "Love On The Brain" hitmaker revealed that she felt betrayed by her father. This was coming after he cashed in on her problems by selling information to the media after she was assaulted by her ex-boyfriend Chris Brown in February 2009.
In an interview with the "US Vogue" in 2011 she said,
"You hear the horror stories about people going behind people's backs and doing strange things, but you always think, 'Not my family. My father would never do that to me. But my dad went to the press and just told them a bunch of lies. Because he hadn't talked to me after … that whole thing . He never called to find out how I was doing, if I was alive, nothing. He just never called. He went straight to the press and got a cheque. And now he does it again."
Rihanna has previously revealed her childhood was blighted by her father's drug problems and eventual split from her mother Monica when she was 14.