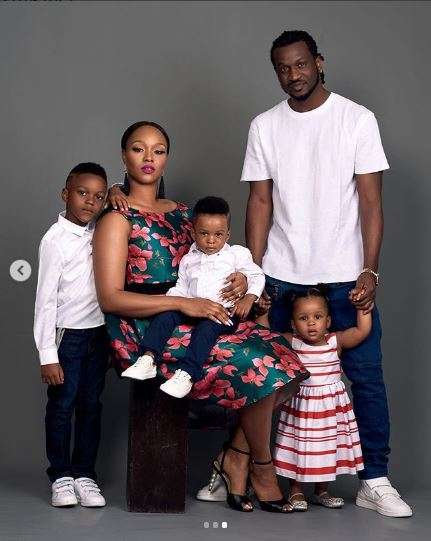 Today is Anita Okoye's birthday and the beautiful mother of three has been blessing social media with some really cute photos.
On her Instagram page, she shares some photos which got us thinking if she really is 30 or maybe just a sweet 20-year-old goddess. Another photo which will definitely get everyone talking is the family portrait, guys, the Okoyes all look adorable together.
"I'm 30! Wow! I have much to be grateful for…God has allowed me to achieve so much…He allowed me to complete my law degree, blessed me with my husband and our three healthy children…I am still pinching myself every time I look at my kids #RainbowBabies #ThankYouLord. He blessed me with courage to become an author #TheABCsOfAfrica and start new amazing projects…some are still marinating and cooking    #Shh #GreatThingsTakeTime#TheCashewAppleProject," she captioned one of the photos
Happy birthday Anita Okoye once again as you step into the 30s gang, from all of us at PULSE, we wish you all the best of life. Earlier, her husband, Paul Okoye had sent her a very cute birthday message on his Instagram page
Paul Okoye's wife, Anita Okoye turns 30 today and he has some really cute words to say about her to mark the special day. The music star and former member of the group 'Psquare' took to his Instagram page on Thursday, November 8, 2018, where she posted a very cute photo of the birthday celebrant. He went on to shower accolades on her and he sure had nice things to say about Anita.
"Happy lovely and a massive 30th birthday to my lovely wife @anita_okoye   ❤️  A.k.a #mamaejima #ifunanya #beautifulonyinye #nkenjikeke ❤️ you are truly a blessing in disguise may God bless your new age love❤️love❤️love you plenty ❤️you are my everything there's no one like you," he captioned the photo.
Anita Okoye is a mother of three adorable kids including a set of twins, Nathan and Nadia. The couple got married in March 2014