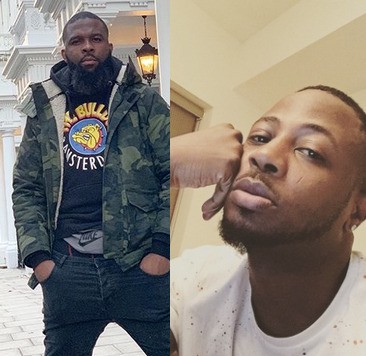 So here is the gist. Few days ago, Oyemykke went on Instagram to ask DJ Cuppy to stop singing and just face her Disco Jockey job. He gave the advise after Cuppy released her song with Mastercraft.
Days after his advise, Cuppy's friend Wande Coal had a show in the UK. Now, there is a video making the round on social media with claims that Oyemykke was denied access into the show by the bouncers because he did not have his ticket and he was trying to gate crash.
Tunde Ednut also shared the video of Oyemykke being denied access into the show. Tunde wrote
Quote
" THEM BOUNCE AM COMOT!!! Some people only have levels only on Social Media. You dare insult Cuppy and think Cuppy no get level everywhere? These are Cuppy's people doing the show you wanna gate crash. How can you enter??? Coupled with that, he didn't buy ticket. That's how he insulted Banky W the other day and got away. You can't do that with Cuppy. She's a WOMAN with levels…. Days after telling Cuppy to quit music, man kicked out of Wande Coal's concert .
Oyemykke has now reacted. In a post shared on his IG page, Oyemykke says he was not bounced from the show. According to him, he was part of the organizers of the show but he however got there late and the bouncer tried using him to shine. He has vowed to come after Tunde Ednut
Quote
"AHHH TUNDE EDNUT
AND I TRIED MY BEST NOT TO TALK ABOUT YOU ANYMORE BECAUSE A MAN I TRULY LOVE SAID I SHOULDNT BUT YOU SAID THIS ABOUT ME EVENTHOUGH YOU HAD THE MEANS OF TELLING THE TRUTH?? YOU KNOW TUNDE PHOENIX , HE KNOWS THE WHOLE STORY BUT BECAUSE YOU SO HATE ME YOU COULDNT TRY TO VERIFY A FAKE STORY ESPECIALLY WHEN YOU SPEAK THE THE GUY EVERY DAY?? THANK GOD FOR YOU MY BROTHER BECAUSE NOW IS THE TIME TO UNLEASH MY DICK ON YOU G.
YOU DON FINALLY phyuk UP BRUH.. Screenshot & Show Him Because He Gatss Know O, WE DONT FOLLOW EACHOTHER