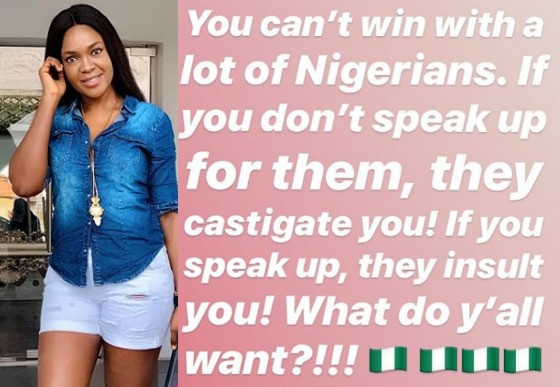 Omoni Oboli has said that Nigerians make it difficult for celebrities to speak up on certain issues concerning the wellbeing of the country and the masses.
She stated this on her Instagram page in the wake of the faceoff her colleague, Omotola Jalade-Ekeinde, had with the presidency and some members of the public after she said Nigerian under President Buhari and Vice President Yemi Osinbajo, is hellish.
She posted the screenshot above and wrote
This is something that really bothers me! Let's discuss it!
I don't blame celebs and public figures when they keep quiet about the issues that affect us all because the backlash lash is always so much. It makes no sense at all. Most of these issues let's be honest, affect the common man the most but they are the ones that will insult your family if you dare speak up!
So because someone bought a car or a house, they have no right to talk about the suffering of the masses? Listen, no matter how much money you have in Nigeria today, you are poorer because you are spending more than you should cos the cost of living is higher and the standard of living is very poor!
Nigerians, na who do us this thing?!!! Smh