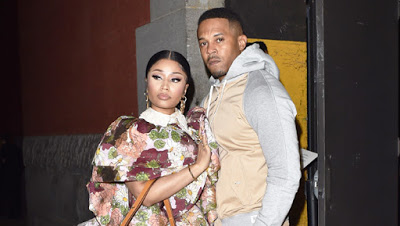 Nicki Minaj's quick peck with her 'Zaddy,' Kenneth Petty, took a sultry turn during the Marc Jacobs Fall/Winter 2020 show at New York Fashion Week!
The new designs on Marc Jacobs' Fall/Winter 2020 runway were fire, and the passion was just as heated between front-row attendees Nicki Minaj, 37, and Kenneth Petty, 41.
Nicki recorded a video of herself leaning into her husband, offering a kiss — and then cheekily surprised him by licking his lips!
The "MEGATRON" rapper shared the PDA moment to her Instagram on Jan. 12, the same day of the New York Fashion Week show. In her caption, Nicki threw in a spicy hashtag to describe their intimacy: "#Zaddy."

Nicki was dressed just as fashionably as the models on the catwalk. The hip hop artist looked ready to hit the runway herself in a $9,500 ruffled floral mini dress from Marc Jacobs, which she paired with knee-high pointed camel boots. Her chic footwear matched Kenneth's tan Timberland boots as the couple posed for a photo outside the show!