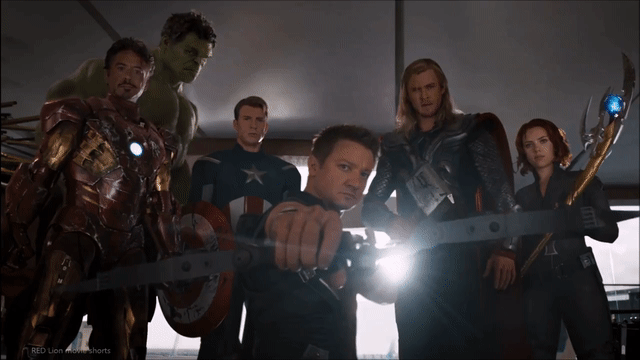 It has been well over a decade (11 years) that the Marvel Cinematic Universe launched its flagship with Iron Man (2008) and we were introduced to our first Marvel comic-inspired movie and the beginning of an era. Avengers: Endgame is the perfect and satisfying end to that era.
Last year, Avengers: Infinity War set a very high bar when it debuted in theatres worldwide, the plot revolved around Thanos' quest to "balance" the universe by wiping out half of its population with the snap of his finger (aka The Decimation), leaving fans across the globe fuming after its cliff-hanging end. Endgame, topples that bar and some. While Infinity War tried to joggle a roster of characters and heroes, Endgame brings focus and narrows it down to the Original six Avengers from the 2012 The Avengers movie, giving them each, well deserved spotlight.
Now that half the cast is out of the picture (Thanks, but no thanks to Thanos' snap), the core Avengers and other surviving characters get more screen time and room for character development. (Then, I guess it isn't a spoiler to reference Hawkeye's new look as Ronin as seen in the trailer). The movie dives into each Avenger's motivations and history — especially important, since this could be the last adventure for some of the longer-serving actors.
As the culmination of 22 movies in the Marvel Cinematic Universe, Endgame had the difficult task of completing over a decade's worth of story telling and character arcs and, of course, a resolution to the massive cliff-hanger at the end of Infinity War.
For most part, Endgame succeeds, in offering fans (hardcore fan boys and girls) who have obsessed over all the MCU movies, — a glorious and satisfying climax.
Endgame, is a Marvel (pun intended) in terms of the plot scale, the visuals, sheer masterminding and ambition. It's success can be credited to the multi faceted elements in the movie, brought on by the plot. That it can serve so many different functions and work as an entertaining blockbuster in its own right is an attestation to the vision of Marvel Studios and the skill of Avengers directors Anthony and Joe Russo (The Russo Brothers).
At the very core of the movie like all the others, is the friendship among the characters and how they individually deal with grief, loss, survivors' guilt, and the pervasive feeling of failure and. This is the actual heart of the movie and what makes it shine, beyond the spectacle that it sets out to achieve as well.
Marvel Studios
Endgame is filled with heartbreaking moments, witty dialogues, insane action sequences, surprise cameos, and as usual, Tony Stark and Rocket quipping, and some plain absurdities. Bottom-line, the movie is super fun to watch.
It worked a tightrope between high drama and comic relief, offering the most emotionally honest theme in all 22 movies, in the history of the Marvel Cinematic Universe and presenting the best payoffs for the most obsessed and longest-term fans, all reminding us of how we've grown with these characters and how well we know their existing emotional arcs and deep-seated insecurities, while drawing those ideas out at length — Tony Stark's constant war between arrogance and his heavy sense of responsibility, Thor's buried insecurities, Steve Rogers' deep-down ache for everything he lost when he was jolted out of his own time, Natasha Romanov's ache for redemption due to her "red filled ledger" — they all get some screen time, ramped up to new heights by the latest events that ended Infinity War and began Endgame.

Image: Marvel Studios
The simplicity and relatability of these characters is why the MCU movies have worked over the years. Endgame serves as the giant sequel to every MCU movie ever released. Luckily, an in-depth knowledge of all the 21 previous movies isn't necessary. The plot does jump around in the first 1 hour into the movie, which might confuse casual viewers, but the thrill ride kicks off big and never lets up.
Every single action sequence in this movie deserves to be seen on the largest screen possible. In Infinity War, the Russo Brothers demonstrated their ability to take action from Earth to space and back, and each of Endgame's locations provide plenty of beautiful vistas and epic clashes. Even the more basic settings, like the Avengers' headquarters in upstate New York, get made over into an expansive scenery.
Finally, Avengers: Endgame is both a farewell and a celebration of 11 years of great visual story-telling of the Marvel comics and the characters we know and love so much. What happens to everyone in Endgame is joyful and depressing, all at the same time, and includes a level of sentimentality that won't be found in many other franchises.
The movie achieved what it set out to do. And above all, fans will enjoy themselves and take away so many great memories from this movie and after a bit of reflection, might ponder on the Implications of some of Endgame's twists. It's definitely worth repeat viewings and I'll definitely be seeing it again, soon.
If you've enjoyed any of the previous Marvel movies, go see Avengers: Endgame as soon as you can. And stay away from any spoilers until you do.
Phase 4 of the Marvel Cinematic Universe awaits, and I'm so ready for it.
– GOLD ZENA