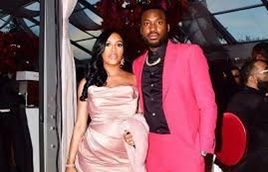 Meek Mill has revealed he and girlfriend Milan Harris have broken up, just a few days after Kanye West insinuated Meek and Kim Kardashian had an affair.
The now-ex couple welcomed their first child together — a baby boy on the rapper's 33rd birthday in May.
Meek, who also has two other children from previous relationships, announced the split on social media.
The 24/7 artist tweeted: "We me and Milano decided to remain friends and build our child as separate parents. We still have mad love for each other but we both came to a understanding!"


He added: "I made a lot of paper last year, everything got different with a lot people I helped so I gotta revaluate myself!
"It will happen to anybody with success & power grow, stay strong and move forward!"
This break-up comes on the heels of Kanye's tweets about his wife Kim Kardashian and Meek's time together at a 2018 event.