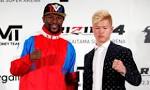 American boxer Floyd Mayweather Jr. is set for an eagerly anticipated return to action after he announced Monday he had signed with Japanese mixed martial arts promotions company RIZIN Fighting Federation to fight kickboxer Tenshin Nasukawa on New Year's Eve in Saitama.
Mayweather, 41, has never fought professionally in mixed martial arts and it has yet to be decided what format and rules the fight would follow.
Speaking at a news conference in Tokyo on Monday, Mayweather said the decision to fight the 20-year-old in Japan was about expanding his global profile.
"I wanted to do something different. I wanted to display my skills outside the US and be in a special fight," he said.
"I spoke with my team and with RIZIN and we put it together.
"I have fought in the US for all 50 of my fights… As a professional I haven't had a chance to go outside the US to display my skills and to display my talent for the world."
Nasukawa competes in their championships in both MMA and pure kickboxing, and comes in with a 4-0 fight record.
Mayweather said the terms of the fight would be decided in the coming weeks.
"As far as the weight class and the rules, we will talk about that and will get that situated within the next couple of weeks," said Mayweather.
In an interview with Reuters on Saturday, the undefeated champ said he would be comfortable fighting under any format.
Mayweather's last bout was in 2017 when he beat Irish MMA fighter Conor McGregor, running his boxing record to 50-0 and earning close to $300 million.
The five-division world champion had come out of a near two-year retirement to fight McGregor and afterwards said he was done with boxing.