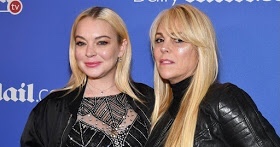 Dina Lohan, mother of actress Lindsay Lohan, was arrested Saturday night for driving while intoxicated near her home in Long Island, the Nassau County Police confirmed to Yahoo.
The arrest took place at approximately 6:30 p.m. on Saturday after 57-year-old Lohan reportedly rear-ended another driver and left the scene. The police would neither confirm nor deny the details of the arrest to Yahoo.
According to the Miami Herald, the Celebrity Big Brother star was driving with a suspended license when she hit another driver and failed to stop.
The hit driver followed Lohan to her home and called the police. Lohan then allegedly refused to take a sobriety test and was arrested on a felony charge of driving while intoxicated.
Lohan was previously convicted of a DWI less than 10 years ago, which is the reason for the felony charge. She was arrested in September 2013 for driving 22 mph over the speed limit with a blood-alcohol level of 0.2 percent, which is more than twice the legal limit.
She forfeited her license for a year after that incident and served 100 hours of community service after pleading guilty. Today reports that Lohan is currently being held for arraignment in the First District Court in Hempstead, N.Y.