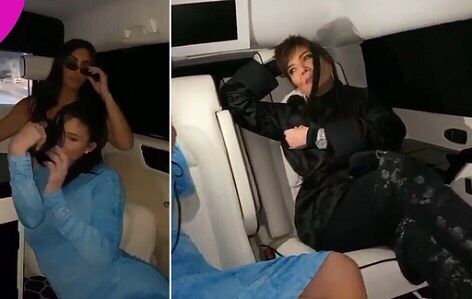 Who said you need all the Kardashians to have fun? Mumma bear Kris Jenner can be seen living it up in the back of a limo as she parties with daughters Kim and Kylie in videos shared by the the two gals.
Kris, 64, can be seen trying out bold new style frontiers and she dons one of Kylie's wigs to add inches to her iconic short raven locks.
"She took my pony," 22 year old cosmetics mogul Kylie wrote as she posed with her mum.
The three of them looked all glammed up, Kylie rocking a skintight, crystal blue number, her hair tied back in a ponytail a la Ariana Grande .
Kim also looked effortlessly glam in a white corset-style top and matching jeans.
There was no sign of other sisters Kourtney, Khloe or Kendall weren't in the car with them.