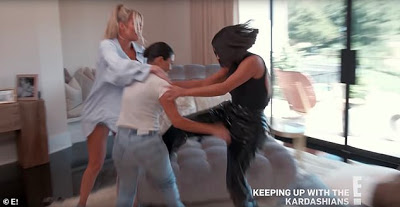 It seems Taylor Swift isn't the only one who has fallen out with Kim Kardashian. The reality star's sister Kourtney physically lashes out at the 39-year-old and yells about her 'fat ass' during an angry argument on Keeping Up With The Kardashians.
In a new trailer for the show, the siblings are seen furiously screaming at one another, with Kourtney screaming: 'I will f*** you up, you literal c***.'
She then gets to her feet and approaches Kim, slapping her face as Kim hits back.

'Stop it, you two,' calls Khloe, who is  in the bedroom with the pair, along with Kendall Jenner.
Kourtney then makes for the door with Kim screaming 'Just get the f*** out of here, I Don't even want to see your f***ing face.'
Voice trembling, Kourtney replies: 'I don't wanna be near your fat a**.'
Kim yells back 'then go' as a visibly upset Kourtney heads out the door, with Khloe following.