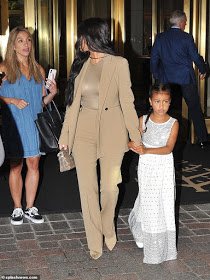 Kim Kardashian visited the White House to meet with President Donald Trump on Thursday.The 38-year-old dressed for the occasion, hoping to impress in a beige power suit and gold bodycon top as she left her hotel in Washington DC, hand-in-hand with her six-year-old daughter North West.
The Keeping Up With The Kardashians star was hard to miss in her businesswoman attire, which was far more demure than her usual glamorous style.
The meeting is thought to have been about seeking justice for rapper A$AP Rocky, who has been jailed in Sweden since July 3. Kim and White House are now 5 and 6. Which celebrity will replicate this in Nigeria?