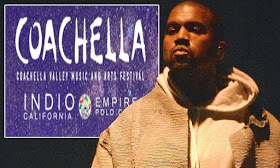 21-time Grammy winner Kanye West reportedly pulled out of headlining this year's Coachella Valley Music and Arts Festival because they wouldn't construct his giant dome stage.
In less than a day, Coachella co-founder Paul Tollett replaced the 41-year-old rapper-designer with the youngest-ever headliner, Ariana Grande, at the fest which sold out in six hours.
West 'hung up' on Tollett on January 1 after he explained it was 'impossible' to build the dome in four months as they would have to remove a section of port-a-potties, according to Billboard.