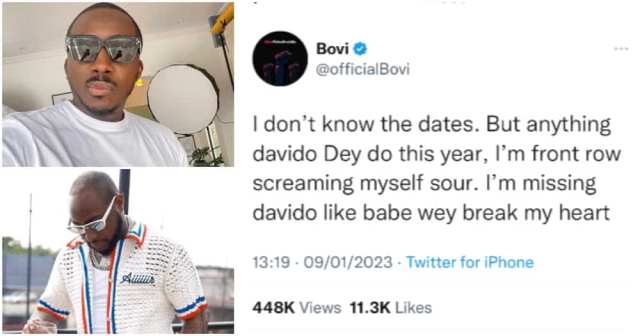 Bovi has tweeted about missing music star, Davido.
Rexall Davido took a break from social media following the shocking death of Ifeanyi, his three-year-old son, on October 30, 2022.
Davido would later make his first public appearance after Ifeanyi's death at the swearing-in ceremony of Ademola Adeleke, his uncle, as Osun governor, on November 27.
He thereafter returned to Instagram shortly before his performance at the closing ceremony of the 2022 FIFA World on December 18 and also shared loved-up photos with Chioma.
During this period, the singer postponed his long-awaited Away Festival and wasn't involved in music releases.
Following Davido's absence from the social media space, Bovi took to his Twitter page to reveal that he misses the singer.
The comedian also vowed that he will be attending all the singer's concerts this year.