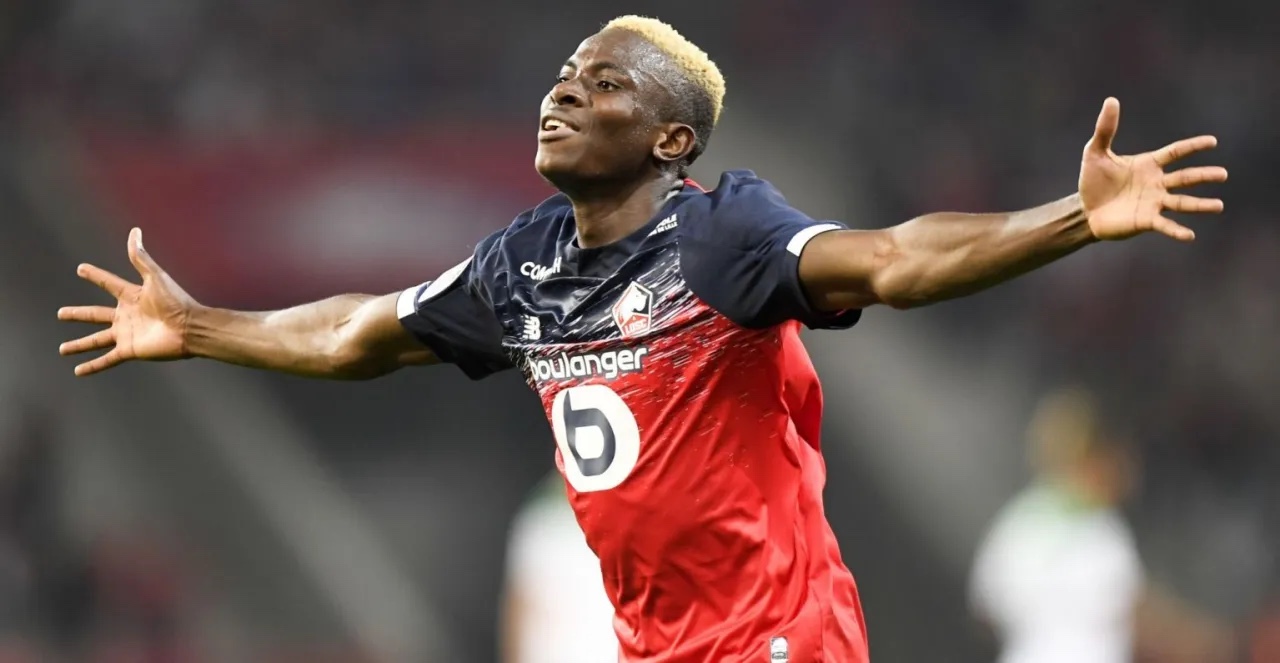 FIVE BEST LEFT-FOOTED FOOTBALLERS TO EVER PLAY IN SERIE A
Victor Osimhen is lighting up Serie A. At the start of the season, pundits called the 2021/2022 Osimhen's breakout season.
And yes, he hasn't disappointed so far despite an injury-ravaged year. Having pocketed the Best Young Player of the 2021-22 Season in Serie A, many Napoli fans agree the Nigerian evokes memories of the left-footed wizard, Diego Maradona. From a reliable source of information, Victor Osimhen was seriously considered by executives at top Premier League this past transfer window.
Talking about magical left-footed footballers, Serie A has enjoyed quite a handful. At its prime, Serie A was drenched with enviable football talents, with some of the finest technical left-footed players to ever grace the game.
These players fed the audience obese with trickery, pace, powerful shots, and last-minute goals. Care to know some of the finest left feet ever to step on the honorable turfs of Italy?
1) Esteban Cambiasso
It would be a football abomination — a possibly punishable one –to mention the best left-footed players in Serie A and ignore Cambiasso.
The Argentine was a versatile left-footed footballer who could play as a central midfielder, a defensive midfielder, and even play out wide flang football.
Such prized versatility made him one of the best on the left wing to play in Serie A.
All through his 435 appearances for Inter Milan – spanning 10 years – Cambiasso was the definition of consistency.
For his labors, he won 22 titles (including 5 Serie A titles), equalling Alfredo Di Stefano's record of most titles by an Argentinian player.
2) Diego Armando Maradona
How could this list go on without mentioning the diminutive Argentine football diety?
Diego Maradona, famed for his "Hand of God" act, was born October 30 1960 in Lanús, Argentina. Following his spell with Barcelona, Maradona moved to Napoli, where he quickly became a Napolitean sweetheart.
The Argentine international was an advanced playmaker who operated as a classic number 10. He played for Napoli from 1984-to 1991 with a total of 188 appearances and 81 goals.
Maradona helped the club win its first Serie A title, Coppo Italia, UEFA Cup, and Italian Super Cup.
Maradona's delectable ball control, vision, passing, dribbling skills, and appetite for goals scoring ability made him one of the most iconic left-footed players in the Serie A.
The number 10 jersey for the club was retired in the year 2000, and the stadium was renamed Stadio Diego Armando Maradona 9 days after his death (died December 4, 2020).
3) Edgar Steven Davids
Let us face it. Edgar made wearing glasses COOL.
You definitely must have remembered the long-haired Dutch player for the glasses he wore due while playing.
The interesting thing is the left-footed Dutch dynamite actually wore them to protect his eyes, not to show his keenness for fashion.
So powerful and versatile was Edgar that he was christened the "Pitbull". His tireless left foot, combined with his creativity and pace, earned him the heart of football lovers all over the world.
AC Milan fans will forever remember Edgar for his unique capacity to break up play from a defensive position, drive the ball on his left foot, evade tackles, and then pick out the killer pass.
His ball-handling skills were remarkable. Despite being a defender, he was notorious for giving opposing defenders a hot run for their money in his attacking forays.
Edgar Davids won many trophies during his junior and senior career before retiring at the age of 37.
4) Dejan Savićević
Dejan is deservedly regarded as one of the greatest Montenegrin and Yugoslav players of all time.
He was at his peak in the 1990s Savićević, keeping his place as one of the best players of his era.
The awesomeness of Dejan's left foot in the Series A (with AC Milan) earned the attacking midfielder the nickname "Genio" .
Translated as "genius" in English, the Italian sports press consistently gushed at Dejan's brilliance.
He won 3 Serie A titles, UEFA Champions League, and other trophies with the Italian giants.
5) Daniel Alberto Passarella
Passarella was one the greatest left-footed defenders of his time to ever play in the Serie A league.
While defenders were traditionally required to keep their backyard orderly and avoid goals, Daniel had a unique nose for scoring.
The Argentine international defender who played for Fiorentina and Internazionale was not just a problem for opposing attackers; he was a nightmare on the offensive, not shy of abandoning his defensive duties to bang in a goal at the other end of the pitch.
He was a prolific goalscoring defender with 451 appearances and 134 goals career goals. This is not a conventional output for a defender.
Daniel, in addition to his defensive solidity, was a commander of men. His revered leadership qualities got him the nickname "El Gran Capitán".
Daniel's left foot was known for its excellent free kicks and penalties, making him a two-time World Cup winner in 1978 (Argentina) and 1986 (Mexico), respectively.