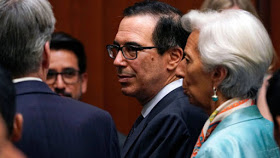 Digital companies such as Facebook and Google will soon have to pay taxes regardless of their physical presence or measured profits in a country after G20 finance ministers agreed to accelerate a radical shake-up of cross-border corporate tax.
In a communiqué issued after their meeting in Fukuoka, Japan, finance ministers from the world's largest economies said they aimed to agree on new rules "by 2020". But there are still big differences to resolve, with the US, home to most of the world's digital giants, opposed to rules that treat digital companies differently to others.
The proposals will lead to higher tax bills for some of the world's most valuable companies and transform the basic tenets of international tax for a world where economic value comes from flows of ideas and data rather than physical goods.

"We have a new economic model based on digital activities and based on the sale and exchange and use of massive data," said Bruno Le Maire, the French finance minister. "For the time being there is no fair taxation of this new economic model."
Digital companies provide their services across borders and can often choose to book sales in a low-tax jurisdiction. Countries may have no way to tax profits from internet advertising, for example, even if the adverts are bought by their citizens and shown to their citizens.