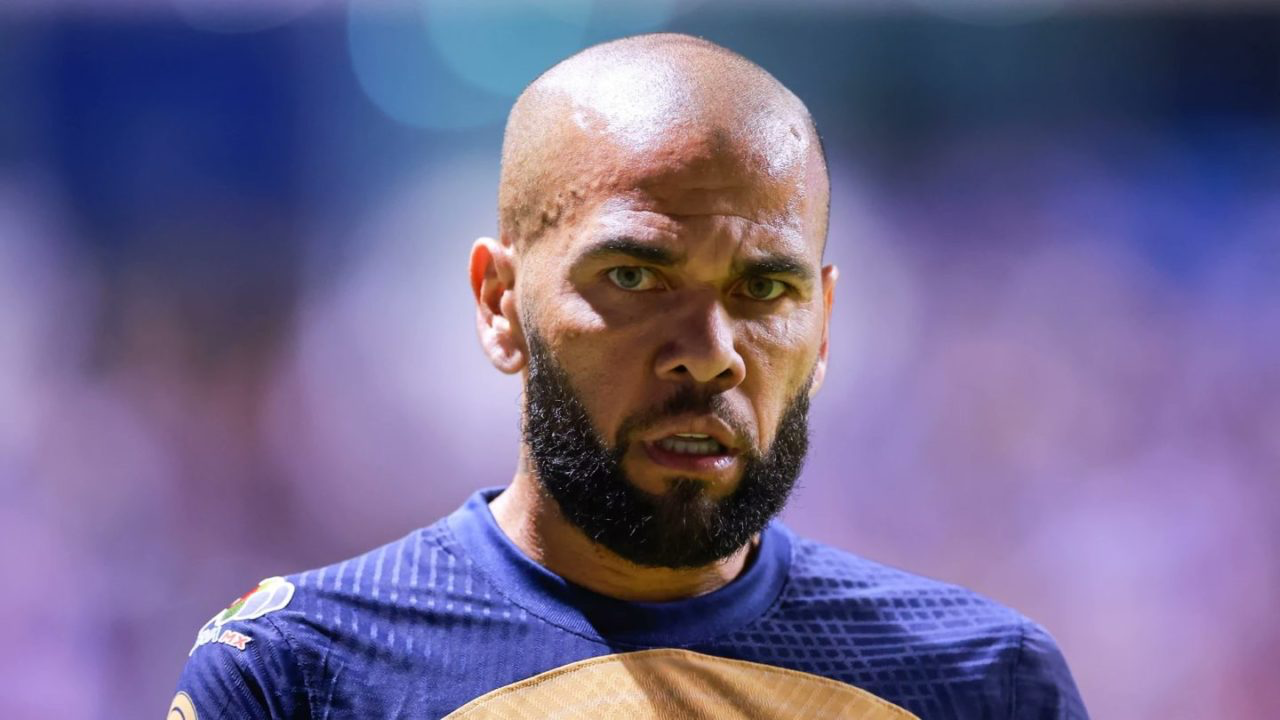 Former Barcelona player, Dani Alves has been sentenced to prison for allegedly raping a woman.
e 39-year-old was arrested on Friday morning after a 23-year-old woman accused him of sexually assaulting her at a Barcelona nightclub on December 30th, 2022. The decision was taken after a state prosecutor and a lawyer representing Alves' female accuser asked the unnamed judge to send him to prison while the investigation continues.
The footballer admitted he had been at iconic city nightclub Sutton when the alleged sex crime occurred. Police and court officials have not made any comment on the exact nature of the allegations.
Alves, who has protested his innocence, has not yet been charged with any crime.
https://platform.twitter.com/embed/Tweet.html?dnt=true&embedId=twitter-widget-0&features=eyJ0ZndfdGltZWxpbmVfbGlzdCI6eyJidWNrZXQiOltdLCJ2ZXJzaW9uIjpudWxsfSwidGZ3X2ZvbGxvd2VyX2NvdW50X3N1bnNldCI6eyJidWNrZXQiOnRydWUsInZlcnNpb24iOm51bGx9LCJ0ZndfaG9yaXpvbl90aW1lbGluZV8xMjAzNCI6eyJidWNrZXQiOiJ0cmVhdG1lbnQiLCJ2ZXJzaW9uIjpudWxsfSwidGZ3X3R3ZWV0X2VkaXRfYmFja2VuZCI6eyJidWNrZXQiOiJvbiIsInZlcnNpb24iOm51bGx9LCJ0ZndfcmVmc3JjX3Nlc3Npb24iOnsiYnVja2V0Ijoib24iLCJ2ZXJzaW9uIjpudWxsfSwidGZ3X3Nob3dfYnVzaW5lc3NfdmVyaWZpZWRfYmFkZ2UiOnsiYnVja2V0Ijoib24iLCJ2ZXJzaW9uIjpudWxsfSwidGZ3X2NoaW5fcGlsbHNfMTQ3NDEiOnsiYnVja2V0IjoiY29sb3JfaWNvbnMiLCJ2ZXJzaW9uIjpudWxsfSwidGZ3X3R3ZWV0X3Jlc3VsdF9taWdyYXRpb25fMTM5NzkiOnsiYnVja2V0IjoidHdlZXRfcmVzdWx0IiwidmVyc2lvbiI6bnVsbH0sInRmd19taXhlZF9tZWRpYV8xNTg5NyI6eyJidWNrZXQiOiJ0cmVhdG1lbnQiLCJ2ZXJzaW9uIjpudWxsfSwidGZ3X3NlbnNpdGl2ZV9tZWRpYV9pbnRlcnN0aXRpYWxfMTM5NjMiOnsiYnVja2V0IjoiaW50ZXJzdGl0aWFsIiwidmVyc2lvbiI6bnVsbH0sInRmd19leHBlcmltZW50c19jb29raWVfZXhwaXJhdGlvbiI6eyJidWNrZXQiOjEyMDk2MDAsInZlcnNpb24iOm51bGx9LCJ0ZndfZHVwbGljYXRlX3NjcmliZXNfdG9fc2V0dGluZ3MiOnsiYnVja2V0Ijoib24iLCJ2ZXJzaW9uIjpudWxsfSwidGZ3X3ZpZGVvX2hsc19keW5hbWljX21hbmlmZXN0c18xNTA4MiI6eyJidWNrZXQiOiJ0cnVlX2JpdHJhdGUiLCJ2ZXJzaW9uIjpudWxsfSwidGZ3X3Nob3dfYmx1ZV92ZXJpZmllZF9iYWRnZSI6eyJidWNrZXQiOiJvbiIsInZlcnNpb24iOm51bGx9LCJ0ZndfbGVnYWN5X3RpbWVsaW5lX3N1bnNldCI6eyJidWNrZXQiOnRydWUsInZlcnNpb24iOm51bGx9LCJ0Zndfc2hvd19nb3ZfdmVyaWZpZWRfYmFkZ2UiOnsiYnVja2V0Ijoib24iLCJ2ZXJzaW9uIjpudWxsfSwidGZ3X3Nob3dfYnVzaW5lc3NfYWZmaWxpYXRlX2JhZGdlIjp7ImJ1Y2tldCI6Im9uIiwidmVyc2lvbiI6bnVsbH0sInRmd190d2VldF9lZGl0X2Zyb250ZW5kIjp7ImJ1Y2tldCI6Im9uIiwidmVyc2lvbiI6bnVsbH19&frame=false&hideCard=false&hideThread=false&id=1616477920306028546&lang=en&origin=https%3A%2F%2Fnotjustok.com%2Fsports%2Fcourt-sentence-dani-alves-to-prison-without-bail-condition%2F&sessionId=c011b2de8b46192a4e2250ce0d342eee65e9bed1&theme=light&widgetsVersion=2b959255e8896%3A1673658205745&width=500px