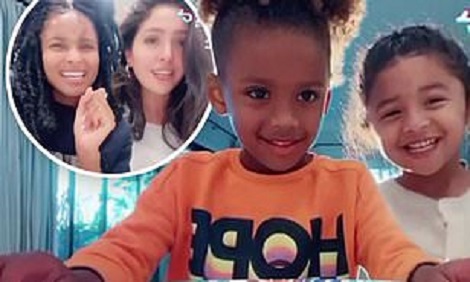 Ciara and her good friend Vanessa Bryant have been known to team up for a slumber party with their younger daughters.
On Sunday the ladies got together: only this time they sat their girls Sienna and Bianka down, side-by-side, to take part in TikTok's Toddler Challenge (#toddlerchallenge).
And the end results of the adorable girls sitting patiently, with a plate of food in front of them, was priceless.
'Si Si & B.B. #ToddlerChallenge. Too funny and cute,'  Ciara (born Ciara Harris), 35, captioned the clip she posted on Instagram on Sunday.
The widow of basketball legend Kobe Bryant followed suit and shared the clip on her Instagram page, adding, 'Omg! B.B. and Sisi are so cute! #toddlerchallenge'