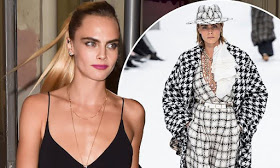 Cara Delevingne has earned the title of the UK's highest paid supermodel by raking in a staggering £21.5million in the last year.
The catwalk queen, 27, has earned over double the salary of her closest competitors, including Kate Moss, 45, who made £9m, and Rosie Huntington-Whiteley, 32, who took home £8m.
Multi-talented Cara, has nearly doubled her income in the past 12 months with her range of endeavours which has seen her making £59,164 per day via her company, Cara & Co.
In her company's latest accounts by Companies House obtained by The Sun, Cara's work commitments have made her profit of £21,594,838, with £20,694,684 being 'cash in the bank'.
As well as earning nearly double than a slew of other high profile modelling names, Cara has also doubled her earnings from 2017, when she made £12.46million.
As well as her modelling and acting ventures, Cara is also making money through her father's business Harvey White Properties Ltd, where she serves as director.