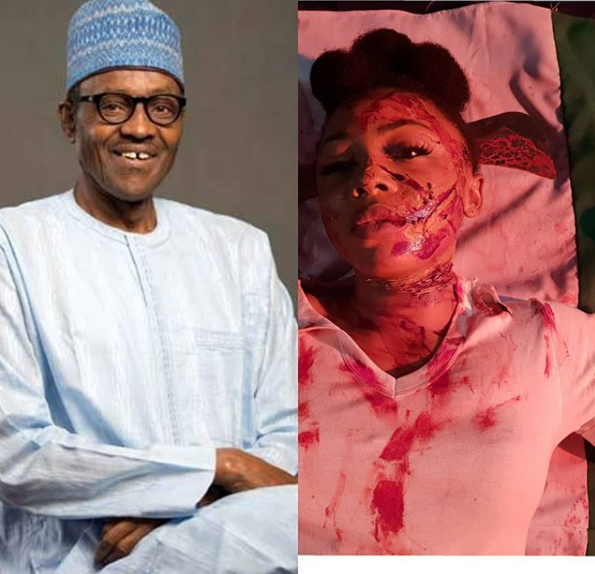 In the wake of the recent killings in Plateau state and around Nigeria by suspected herdsmen, ex-Big Brother Naija housemate, Ifu Ennada has written a lengthy message to President Muhammadu Buhari in a very bloody dramatisation.
She wrote:
My name is Ifu Ennada and I could be a victim.
Evil people prevail when Good people do nothing.
Our dear Country Nigeria is in pains no thanks to multiple terrors inflicted on her by a variety of soulless people, but enough is enough!
We need everyone to come together and fight the evil in our land. From the presidency to the man on the street, we need to fight this evil!
We need the government to take precise measures against these gruesome killings in our land. We're tired of hearing "accept my condolence" and other cliche sentences with no action to back them up.
Enough is enough!
Back when I was a child, I had the opportunity to leave Nigeria for several acclaimed "greener pastures"…but I decided I'd grow up in my country and try to be one of those inspiring positive change because I always chose to see Nigeria as what she truly is – beautIFU.
—
—
I loved Nigeria that much and I haven't stopped loving her, thats why I've decided to use my capacity as an actress and celebrity to join this protest and add my voice against the evil in the land. —
—
I nominate everyone reading this to get creative and join this online #EnoughIsEnough protest that precedes a protest that'd happen in Abuja on July 4th. Expect to see more vidoes from other people today.
—
— Divided we fall but united we stand! Let's do this for Naija! Thanks to @niyi_akinmolayan for this movement.
#IfuEnnada #EnoughIsEnough #BloodOnTheFlag