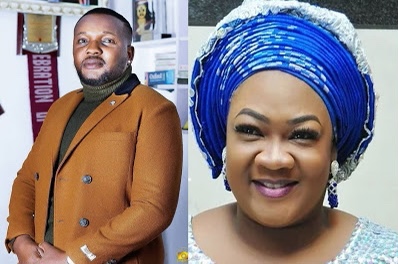 Yoruba actor, Yomi Fabiyi has vowed to front a massive protest aimed at getting comedienne, Princess arrested over the r*pe saga involving embattled actor, Baba Ijesha.


Baba Ijesha born Olanrewaju James was arrested after he was accused of se.xually molesting a 14-year-old following a CCTV footage that captured him in the act.


Baba Ijesha, however, pleaded guilty to the crime and begged the mother of the foster child whom he assaulted to have mercy on him during an interrogation in a viral video.


Reacting to the call by many celebrities in Nigerians demanding the imprisonment of Baba Ijesha, Yomi Fabiyi who asserted that Baba Ijesha was set up by Princess raised an open question asking if a parent can allow their child to be abused and dehumanized in the name of obtaining evidence while affirming to call for the arrest of Princess and those involved in the drama.


He wrote;


"If this is not clear to you again, I am sorry I cannot help farther. I will fight for the young lady(minor), even if I fight alone. I am never in support of Baba Ijesha's action, rape or child molestation etc at anytime, please understand and stop misleading people.


CAN YOU ALLOW YOUR CHILD GO THROUGH ANOTHER ABUSE FROM SAME TORMENTOR FOR ANY REASON? The girl needs urgent help. Take the child away from the guardian NOW!


All the ADULTS including Baba Ijesha plus any other the investigation traverses must be arrested as soon as possible.


For heaven sake, the Police saw this cctv before hand and never touch on everyone in the footage, that is ridiculous! WHY SHOULD LAGOS POLICE DO THIS TO A CHILD?


No reliable justice system will overlook that side of the investigation. If that child can decide for herself, she will never want to be abused again no matter the alibi, BUT SHE WAS ALLOWED TO BE ABUSED. Nigerians learn to trust the police and stop putting the laws into your hands. Emotions if too much can be detrimental.


If after Seven(7) Working Days the CP refuses to do the right thing, Nigeria either GO FORWARD or BACKWARD. To move forward, we all must TAKE TO THE STREET and fight for every child. Lagos Governor and the Police must do the right thing NOW!


There are decision we are making, we are saving our own lives. Trust me, It is worth risking everything for. All Human Rights Lawyers, adults, I challenge you all to the court of conscience.


Aluta Continua!


Yomi Fabiyi


Actor/Human Rights Ambassador.