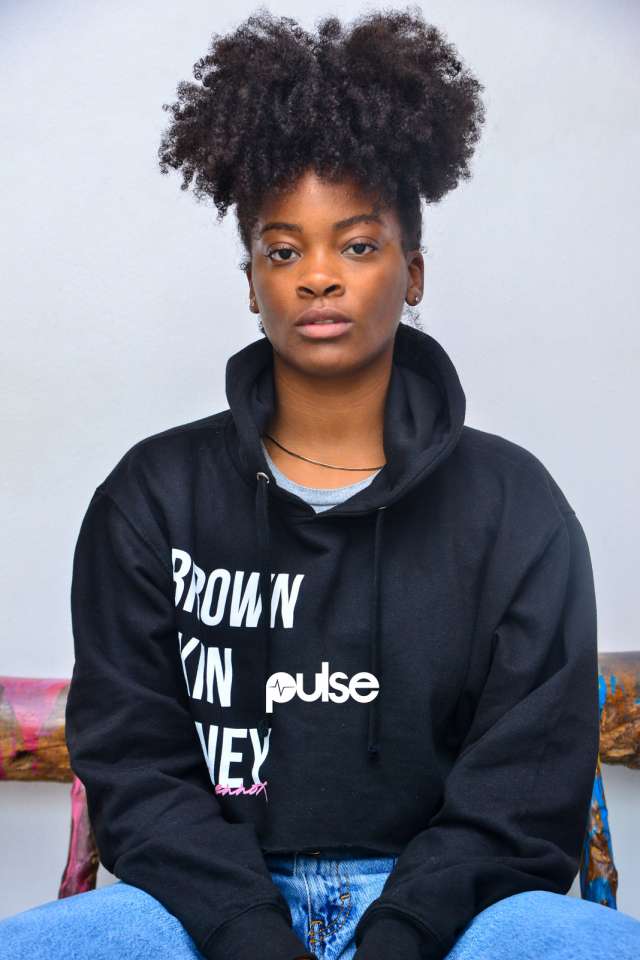 From gaining a following with her SoundCloud and Youtube pages, Ari Lennox got signed to Dreamville and has emerged as one of the names to look out for on the American music scene.
The singer/songwriter who hails from Washington, D.C visited Nigeria for the first time as she seeks to identify with her African roots and connect with her fans on the continent.
In an interview with Pulse, Ari lennox speaks about her visit, encounter with Nigerian men, battling depression, her music and favourite Nigerian songs
"My name is Ari Lennox, I am from DC and I am glad to be home now," she introduced herself as we sat down for the interview. "It has been crazy fun since I arrived… It is just a beautiful different world. It's weird, I feel like I have been here before."
This is her first ever visit to Nigeria and I was curious to know why, "Simply holiday, I felt like I was too old to not have seen the motherland by now, specifically Nigeria where they say I am from," she laughs. "Because I took a DNA test, ancestry DNA, hopefully, they are not lying to me, they say 33% I am Nigerian."
"I had a little bit of Jollof rice, that was cool," she replied when asked if she has tasted any Nigerian meal yet.
Are there plans to work with a Nigerian artist?
"I would love to, I guess it is just about working with the right ones, I am down… I love Davido, his song 'Fia', then, of course, Fela Kuti, I love the song 'Zombie.' Of course, Wizkid all day, the "Ayo" album, I love that and Mr Eazi, 'Leg over'."
On Nigerian men
Since her arrival in Nigeria, her social media pages have been littered with posts about Nigerian men and she couldn't hide her excitement when asked the question.
"I have never seen so many beautiful dark-skinned men this many. I mean I am not trying to go out there and bust it, its just nice to see like beautiful men everywhere.
There is a lot of beautiful dark-skinned African men in America, but it's just another confidence and daring, hypnotizing vibe here, its just beautiful vibes here. I am just amazed at how they are."
Misconceptions before making the trip to Nigeria
"Yeah, like the white people in America at the passport, they tried to say that the food, be careful with what you eat, which hurts because I am just trying to eat a salad and they try to instil in my mind that there might be things in the food, so be careful and I have kind of just let that go because I feel like, live life and I just feel like it's just maybe propaganda or just a lot of ignorance America has on like a lot of places in the world.
Lagos is so lit and beautiful and modern and different, I can't even explain how amazing it is, just a lot of fear out of ignorance that people have in America."
On how long she has been doing music
"Seriously, since 09, I dropped the song called the 'Orion' and after that, I just started recording with my friend, Jason. I recorded a song called 'Random Heartbreaks' and I talked about my experience with depression and mental ailment, panic attacks and anxiety.
It has been a journey since 2009, then in 2016, I dropped my EP called "Pho" and now I am about to drop my album."
What would be your message to people battle with depression?
"Well, I will just want people to express themselves, however, they need to express themselves, so whether it is sexually or whoever you, love, just go ahead and love that person, just hope my music can inspire them to feel happiness."
What inspired the song, 'Whipped Cream'?
"Heartbreak and trifling n***as," she said. "Basically being rejected and just eating a lot of sugar to get through it… So I found like a new desire which is eating clean. I did a lot of that and I have just been trying to find different avenues to make my body feel good and then I feel good," she added when asked how she was able to break out of it.
Her latest song, 'Shea Butter Baby', which features label boss, J. Cole made it as a soundtrack to the new American movie, Creed II: The Album headed by iconic producer, Mike WiLL Made-It and features tracks by top artists like Lil Wayne, Nas, Rick Ross and Nicki Minaj and she is elated at the feat.
"I feel honoured because I always wanted to make music like that… I am just glad I was able to do something like that with my friend, Elite, incredible producer and Cole, the fact that he got on it stamped the fact that I and Elite really made something special, so I am honoured that the director of Creed II loved it and that changed my life."
On relationship with J Cole
The singer who is signed to J. Cole's Dreamville label and appeared on his 2016 album, "4 Your Eyez Only" calls its a blessing working with him.
"Cole is really cool, he is like Big Brother. He always has some beautiful guidance like knowledge and he is really kind."
On her new album
"Hopefully, it should be out at the top of next year, I am pushing for a January or February release and I think I might name the project "Shea Butter Baby'."
Are we expecting more singles before the album drops?
Lennox has recently put out a number of new singles including 'Whipped Cream,' 'Grampa,' 'Pedigree' and 'No One' as she gears up for her new album, "Shea Butter Baby."
"Hopefully not, because I feel like if I give more singles, then you already heard the whole album. I have so many singles out already that will probably be on the album, so hopefully not."
What goes through your mind when you are creating music?
"I want to bless people and I definitely want to express whatever it is I am feeling, If I hear a fire beat and I am going through something, usually I am able to pair the two together. Whether sad, happy or sexual experience, I start writing and it just flows."
Who are your music influences?
"Di Angelo, Minnie Riperton, there is Chrisette Michelle in there, Ciara, Omarion, B2K, Marvin Gaye, Ella Fitzgerald, Billy Holiday, there is so many. I just love soul, Mary J Blige, Monica, Aaliyah, Faith Evans, Erykah Badu."
The message behind the upcoming album
"I want them to take away the fact that you can do whatever you want, there are no rules. Just to be happy and not music that you think other people will like, make sure you are making your project for yourself and I want them to just simply enjoy it. Be free to listen to it with their kids, friends, just be happy and have a sense of peace.
There is definitely vibes of loving like 'My Brown Skin', 'Shea Butter Baby', definitely lot of soulful, beautiful black women uplifting vibes all day."
The highlight of her career so far
"Honestly, I think between 'Whipped Cream' and 'Shea Butter Baby'… this is the highest we have been so far. 'Whipped Cream' is doing so well on a lot of the streaming platforms, 'Shea Butter Baby' in my mind is like taking off and it's just been released barely two weeks ago, so its just been a blessing."
Did you envisage these songs would become hit records?
"I never think it will ever get big or anything like that, cause you have to be humble and just go with the flow. You never can really quite guess what is going to appeal to people, you never know that is why I am shocked that 'Whipped Cream' is as big as it is now and 'Shea Butter Baby' also, I am just shocked.
Like here is the thing, I will play 'Shea Butter Baby' for people, and I have friends that do not like the record but it is weird with everyone else in the world, they seem to like it so it seems like I never can really gauge it, cos sometimes my friends will hate stuff and the world might like it, you just never know."
Have you ever had someone criticise your music?
"My Uncle, he is like, it makes him cringy that I talk asexually in my music, but I am just like, there are different sides, I am a modern day woman and these are modern day expressions.
Yeah, there are definitely people who sometimes want me to not be asexual, sometimes they want me to dumb down the music if I am getting too logical, too deep or even too sad. Like I have a song called 'No One' and I find my friends weren't really vibing with that song because it was kind of sad and I am like 'I get sad sometimes and I have to express it."
How does these criticisms make you feel?
"It gets to me cos I am very sensitive, I want people to like everything that I do but at the same time I have my own legacy to fulfil and I just have to do what is in my heart and at times it is like there is no one to talk to and I am going to put that in the song even if it goes against the grain."
Final words to Nigerians
"Y'all are so beautiful people, so blessed, it's an honour for you to be born here because it's such a beautiful land. Like all parts of this land is beautiful, the good and what people may perceive as bad, I guess it's all beautiful and overall, if you have a dream, just go for it, don't let anything get in the way of that." she concluded.
This interview has been slighty edited for clarity