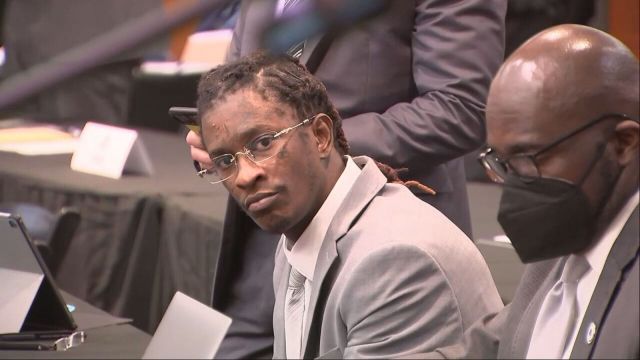 American rapper, Young Thug was set to go on trial Monday on charges that his record label is a front for a crime ring.
The influential hip-hop star born Jeffery Williams was one of more than two dozen people charged last spring by a Georgia grand jury, which said those named belong to a branch of the Bloods street gang identified as Young Slime Life, or YSL.
The indictment shook the rap world in Atlanta long a nexus of hip-hop, where Young Thug is considered among the industry's most impactful figures, one who forged contemporary rap's sound.
Georgia prosecutors hit all the defendants with conspiring to violate the state's criminal racketeering law, which is modeled on the federal RICO Act.
In its early days, that statute was used to go after the mob, and more recently to take down the disgraced R&B singer R. Kelly for s*x crimes.
Alleged individual crimes supporting the YSL conspiracy charge include murder, assault, carjacking, drug dealing and theft.
Young Thug, who founded the hip-hop and trap label YSL Records in 2016, also faces one count of participation in criminal street gang activity.
Defense lawyers insist YSL — also known as Young Stoner Life Records — represents nothing more than a label and vague association of artists.
Controversially, prosecutors are holding up rap lyrics from musicians including Young Thug and Gunna — who was also charged but took a plea deal — and even a bar from a posthumous Juice WRLD single.
"I think if you decide to admit your crimes over a beat, I'm going to use it," said Fani Willis, the district attorney of Fulton County, which includes Atlanta.