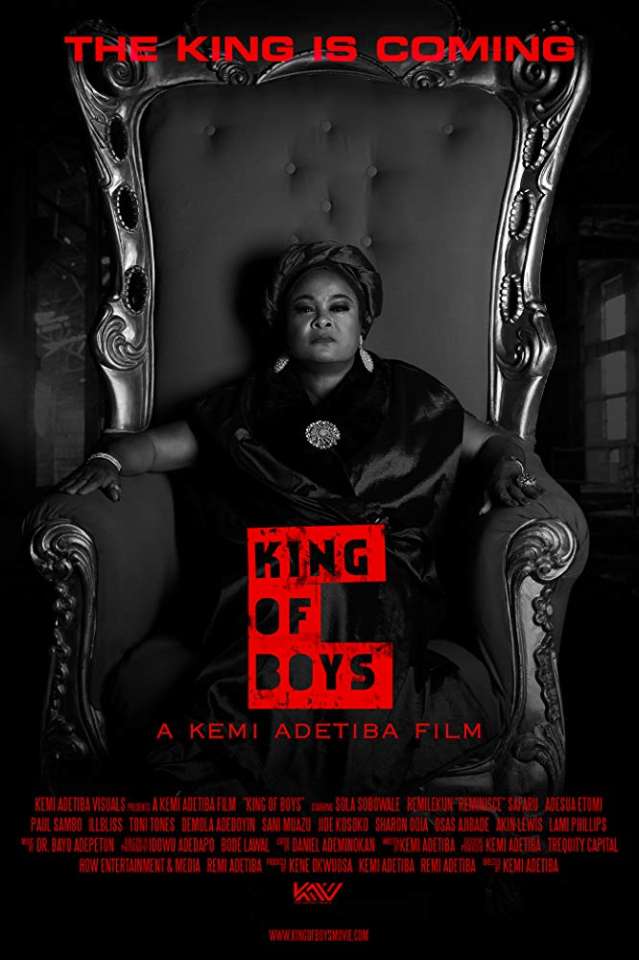 In less than two weeks since its release to cinemas, Kemi Adetiba's 'King of Boys' has already been declared a hit by a lot of people.
According to the director, it has already nabbed some accolades -   the biggest ever opening week for a non-comedy Nollywood film, the second highest opening of a Nollywood film in 2018 and the second highest opening week by a female director.
This is all in spite of the 3 solid reasons why Kemi Adetiba's 'King of Boys' should NOT have been well received. They are:
https://www.instagram.com/p/BpxUnHnlfQC/?utm_source=ig_embed
Celebrity-filled cast
There have been some cases where famous people were simply cast for their status, not necessarily their acting skills. In those situations, the movies did not always turn out right.
Once again, Adetiba took what shouldn't have worked and made it a raving success. Social media users can't stop talking about the solid acting from rappers Reminisce and Ill Bliss and the amazing performance from the rest of the celebrity-filled cast.
https://www.instagram.com/p/BpkkgwXFcsR/?utm_source=ig_embed
https://twitter.com/DAVIDUZZZI/status/1060045818118524929
Non-Comedy
Adetiba herself shared reasons why she was warned against making 'King of Boys.' Number one on the list was "Don't do a non-comedy film. They don't sell in this country."
This is a legitimate fear considering the fact that the first four movies on the list of highest-grossing Nigerian films are all comedy. They are 'The Wedding Party 2', its prequel 'The Wedding Party,' 'A Trip to Jamaica' and '30 Days in Atlanta.'
The filmmaker's success with this non-comedy is proof that it's okay to take risks, as long as you do something great with it.
Who is this King of Boys?
Kemi Adetiba was born in Lagos state on January 8, 1980, to very impressive parents. Her father, Dele, is an advertising and broadcasting veteran while her mother, Mayen, a Civil Engineer who became the first female Civil Engineer to be elected into the Executive Committee of the Nigerians Society of Engineers, past Vice President of the Nigerian Society of Engineers as well as past President of the Association of Consultant Engineers.
According to her, her childhood dream was to become a singer. In her words, "I actually wanted to sing, I used to get involved in a lot of competitions, but I never had the confidence. I am actually a very shy person."
This desire led to her becoming a music video director whose work costs over N2 million in 2015.
"Then at some point, I switched to wanting to be a music producer because I still didn't have the confidence to want to get in the eye of the public, but I still never mustered the confidence to appear on stage, " she said in an interview with Kemi Filani News
This was after studying law, being a radio presenter with Rhythm 93.7 FM, producing, and presenting several shows. Eventually, she went back to school – the New York Film Academy – in order to learn more about directing.
This enrollment was followed by the release of her short film 'Across a Bloodied Ocean' which was screened at the 2009 Pan African Film Festival and the National Black Arts Festival.
This was followed by Adetiba's first feature film, 'The Wedding Party', which premiered on opening night at the Toronto International Film Festival (TIFF) on September 8,  2016. This earned her a lot of recognition, adding to her long lists of accolades from her previous work on the music scene.
Watch King Of Boys at the cinema today and understand the hype. @kemiadetiba has outdone herself again.

Movie is easily the best Nigerian production I've since wedding party

— madHRman (@DAVIDUZZZI) November 7, 2018
This second directorial work, 'King of Boys' has solidified her on the movie scene as an extremely impressive filmmaker to watch out for.